The FAIR Island Project participated in the FAIRsFAIR Policy Enhancement Support Programme in the first part of 2021 sharing the draft Tetiaroa Data Policy. The Policy Support Programme was an open call for policy enhancement support launched in late 2020. The call invited expressions of interest from policy makers at all levels to work with us to assess their current policies against our policy enhancement recommendations and to consider how the policies might be adapted to support the emergence of a FAIR ecosystem better.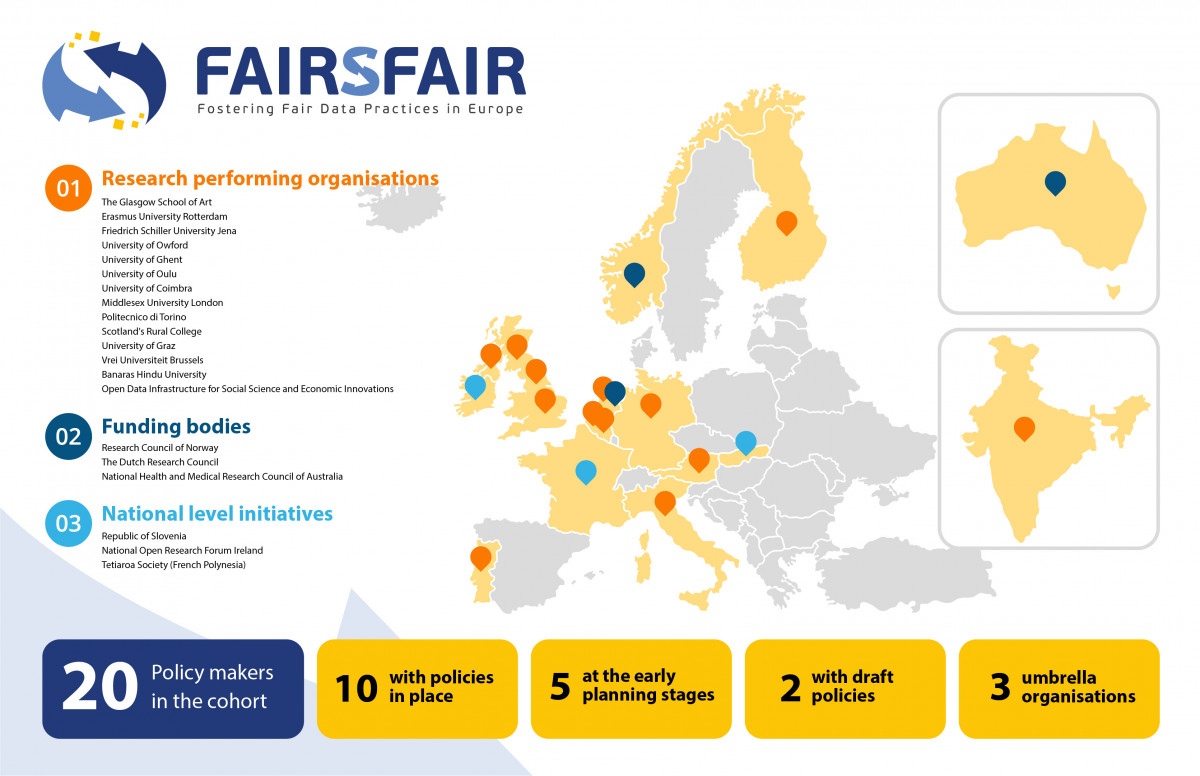 From the FAIRsFAIR team:
The FAIRsFAIR team carried out a review of each policy against our set of policy enhancement recommendations[1]. The review process involved characterising each policy against a set of defined policy elements. The policy elements were grouped under three categories which included:
Context of the policy itself such as the title and the year the policy came into effect
Content of the policy focusing on the suggested and required aspects of RDM and data sharing
Support for adhering with the policy and compliance monitoring
At least two reviewers assessed each policy to provide a consensus view.
---
We received a review of our policy in June 2021. We requested the FAIRsFAIR team to publish this to our Zenodo Community for full transparency and you can read the full report here[2].The Tetiaroa Data Policy generally addressed each aspect of research data management and the reviewers felt that the 'scope and aims of the policy were clear.' We were even called out for good practice in the FAIRsFAIR Roadshow: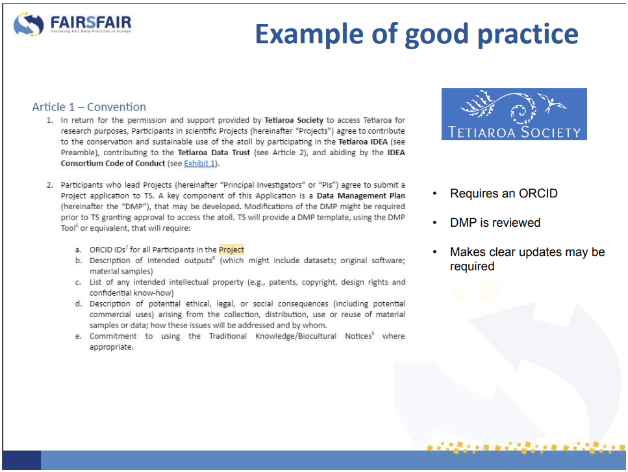 There were helpful areas pointed out for refinement including:
Policy implementation and scheduled review dates
The length of time that data derived from Tetiaroa should be preserved
The responsibility for policy compliance monitoring
Support or guidance given to research teams to comply with the policies.
We have added each recommendation as an issue to the Tetiaroa Data Policy Github repository and will work over the summer to resolve and respond to these comments. In addition, we will also consider these recommendations with the Generic Place-based Data Policy as well.
References:
[1] Davidson, Joy, Grootveld, Marjan, Whyte, Angus, Herterich, Patricia, Engelhardt, Claudia, Stoy, Lennart, & Proudman, Vanessa. (2020). D3.3 Policy Enhancement Recommendations (1.0). Zenodo. https://doi.org/10.5281/zenodo.5362183
[2] O'Connor, Ryan, & Garbuglia, Federica. (2022). FAIRsFAIR review of Tetiaroa Research Data Policy. Zenodo. https://doi.org/10.5281/zenodo.6513733